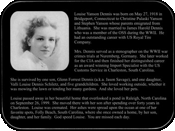 Welcome to Immortal Memories™. Our singular focus is the design and production of the Gold Memory™, Diamond Memory™, and 316 Memory™ tributes, a distinctive, personalized commemorative developed to photographically immortalize loved ones, families, pets, friends, and special events for thousands of years. We want to keep history alive so people will Never Forget!
I invite you to click on the rotating images above and the individual photos to the left. Each will open a modal window featuring a larger image and description. You can also view a slide show of the carrousel images by moving your mouse cursor over an enlarged image, toward the top, until you see the left and right arrows.
Please use our menu to navigate a wealth of information about these and other tribute options. We want you to make a truly informed decision before purchasing any type of commemorative.

Family Heirlooms

This commemorative is destined for display in the home. This tribute has been framed and will be passed down through generations. If this commemorative is not purposefully destroyed, its life span is indefinite. If an earthquake buried a town that would not be rediscovered for a thousand years, this commemorative will survive to tell its story, giving you and your loved ones an element of immortality.
I recommend the premier commemorative, the Gold Memory™. Photos and text are etched into black, 316L surgical stainless steel. The etching is then plated with 24K Gold. The commemorative is then recessed mounted, matted, and framed. Give the gift of immortality to someone you love. This is an addition to the home that will survive the ages. Its a gift like no other in the world!
Gravestones/Foot Markers/Urns


These commemoratives can be affixed to new or existing gravestones. Unlike the full color, porcelain plaques, these tributes blend better with the stone and they are not affixed to the stone with an epoxy adhesive, which will eventually fail. These commemoratives can be custom sized to fit any application - foot markers to urns. Please read our articles under 'the competition' on the main menu.
Individual Remembrance Stones
The Immortal Memories™ tribute is recessed mounted into an individual granite stone. The stone can be placed beside a gravestone, foot marker, or anywhere you feel it would be appropriate. This one I did in remembrance of my mother. She was cremated and her ashes were committed to the ocean near a home she owned on Folly Beach, SC. This remembrance stone rests near a garden at my home. If a Remembrance Stone is placed in a public location, a steel rod can be affixed to the bottom of the stone so it can be embedded in concrete, making removal very difficult.